Presentation Instructions
Keynote Speakers and Podium Presenters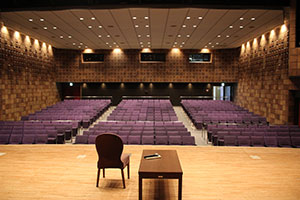 Presentation check-in and data upload for presentation
Please bring your presentation data on a USB memory stick and upload it on the conference PC in the podium of the session hall at the designated time as follows.
Alternatively, you may use your own laptop computer for your presentation. In such a case, please confirm that it has a VGA or HDMI socket for external signal and come to check it first at the podium.
Presentation Date
Check-in and Data Upload
All Presentations
Tuesday, 29th Nov
15:00 – 18:00
Wednesday, 30th Nov
17:30 – 19:30
Thursday, 1st Dec
17:30 – 19:30
Wednesday, 30th Nov
Wednesday, 30th Nov
8:00 – 9:30 or Lunch time
Thursday, 1st Dec
Thursday, 1st Dec
8:00 – 9:00 or Lunch time
Friday, 2nd Dec
Friday, 2nd Dec
8:00 – 9:30 or Lunch time
Presentation
Presenters can use a remote controller with a laser pointer to control the PowerPoint slides.
If combining video films with your PowerPoint, please make sure to check it at your presentation check-in time.
There is no public Wi-Fi and LAN available in the venue. Prepare a rental Wi-Fi by yourself if you need.
Presentation Time (Podium presenters only)
Staff will inform you of the time with a bell.
1st Bell : 1 min. remaining (end of your talk)
2nd Bell : at the end of your talk (and start of the Q&A )
3rd Bell : end of your presentation time
Normal podium presentations are 8 minutes in length, with 2 minutes for discussion/questions. Opener presentations are 12 minutes in length, with 3 minutes for discussion/questions. If a presentation fails or is not completed in the allotted amount of time the presentation will not be allowed to continue.
Important note for Macintosh users
If you want to make your presentation on our Windows PC with the data file created in Mac, please note that you need to prepare it according to the instructions below:
1. Save your presentation data on a Mac as a Windows based PowerPoint presentation.
2. Use a common font, such as Arial, Times New Roman, Verdana etc. (special fonts might corrupt on a Windows PC).
3. Insert pictures as JPG files (and not TIF, PNG or PICT - these images will not be visible on a Windows PowerPoint).
Alternatively, you may use your own Macintosh laptop computer. In such a case please bring the appropriate VGA Convertor with you.
Next speaker's seat
Check your presentation time, and be seated at the next speaker's seat on the left side in front of the hall before your presentation time.
Poster Presentation
Posters will be presented in three daily sessions, indicated in the program. The poster presentation area is "Mariage Grande" located on the 8th floor of Kyoto Avanti, where the ICST conference hall is located.
Each poster should be sized smaller than 119cm (H) x 84cm (W).
Posters will be displayed only on the date of your presentation session. Check the date and put your poster up during the morning break or during lunch time. Assigned poster numbers are posted in the upper right-hand corners of the corresponding poster boards. Thumb-tacks will be provided at each board. There are assistants assigned to the poster exhibition area to help you.
Arrive in the poster session area well in advance to your poster session. Please stand by your poster until the end of the entire session to engage in discussions about your research with session participants.
Remove the poster by the end of the day. We recommend to remove the poster soon after the poster presentation session or dinner time on November 1st and December 2nd. You can't access the poster presentation area after the end of poster presentation session on December 2nd.
On 30th November or 1st December, it is recommended you remove your poster immediately following you poster session or during dinner.
Please note : the poster session area will be inaccessible following the conclusion of poster session on 2nd December.